I found this interesting article that dates from a year ago.
It proclaims that using the term "nude" could be a racist
way of describing the color.
Personally, I think it's pushing it and not in any way trying to be racist.
I agree that "nude" shouldn't be coined a "flesh-color" because
we
all have
different skin tones. It's more like a soft pale pink/ivory and to me, I do not see
why a pale color that is being all the rage right now should be deemed a racist color.
It's worth a read though.
Thoughts? I'd love to hear them!
Nude: is the hot fashion colour racist?
But it's only nude if you're white,
not if you're black
Paula Cocozza - the Guardian. May 20, 2010.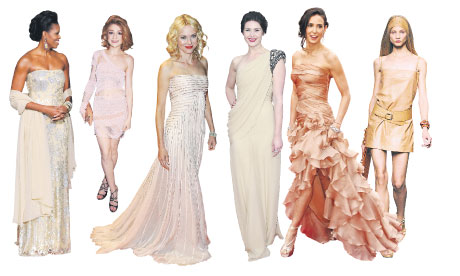 Michelle Obama must be used to causing a stir with her frocks. But she could not have known when she chose a floorlength gown in a lovely shade of – well, let's just pass over that for the moment – to meet the Indian prime minister last November, the furore that would follow. The dress was described by its designer Naeem Khan as a "sterling-silver sequin, abstract floral, nude strapless gown". Associated Press said it was "flesh-coloured", the colour of Obama's own flesh notwithstanding. Now AP appears to have revised that description to "champagne", an act that has triggered debate about fashion's use of the word "nude". "Nude? For whom?" asks Jezebel magazine.
To anyone who reads fashion magazines these terms will be familiar. "Nude" shades are everywhere this season, having dominated the spring/summer 2010 catwalks, from off-white through pale rose to gold ("nude" in fashion terms does not refer to anything more exciting than these rather muted colours, not even with "nude bras"). InStyle magazine goes as far as to say that nude is the new black: just about the surest way to exclude black-skinned women from adopting the trend, since it's apparently not acceptable to wear black as black, nor black as nude.
Over at Elle magazine, where the May issue sees the word "nude" repeated nine times on a single page, "nude is the colour for spring/summer". Editor Lorraine Candy says there is nothing wrong with this. "Nude is a defined colour. It's white nude, not black nude, but it's not the colour of my skin either. I'm see-through white. With someone as powerful and amazing as Michelle Obama, I think it's the wrong thing to get worked up about."
The problem is that the language of fashion has form in this regard. Beading, fringing and animal prints are routinely offered as evidence of a "tribal" trend (though that is a word Candy says she crosses out whenever she sees it). Last October, a month before Obama stepped out in her dress, model Lara Stone appeared blacked up in French Vogue. Black models, meanwhile, are few and far between on catwalks and covers. And even when fashion editors find synonyms for "nude" they are conventionally honey, rose, blush, ivory, words commonly used to make an English rose complexion seem aspirational. There is nothing new in all this, of course: remember American Tan tights, and their promise to bring a healthy glow to all those "American" (read pale) legs?
"For me, nude would be if I wore brown," says Dodai Stewart, deputy editor of Jezebel. "I do think that it really is exclusionary not to realise that this is not nude for everyone."
But it isn't just the description of a colour that is potentially offensive here, it's also the way the look is styled, the conception of the entire trend. On the cover of May's InStyle, actor Gemma Arterton appears in a frock so close to her skin tone that it seems to seep into her chest and shoulders, the two adjacent pallors of flesh and dress somehow bleaching each other out, lightening further the overall look. On the catwalks in Paris, Milan, London and New York, these pale shades were presented almost uniformly on pale skins. It's a look that's all about white skin.
"Obama looks amazing," says Reina Lewis, professor of cultural studies at the London College of Fashion. "It's a fabulous dress. But on her skin 'nude' is revealed as a colour rather than neutral."
Indeed it seems misplaced to think of these shades as neutral, when the debate makes clear that this trend is anything but. Pantone, the world-renowned authority on colour, may have a "nude" shade, thereby conferring a certain official acceptability on all those magazines' usage of the term. But then another N-word was once commonly used in clothes catalogues to describe a chocolatey shade of brown. (Yes, THAT N-word.) Will "nude" one day strike us as equally horrifying?